Introduction
Shen Yun Performing Arts produces extraordinary shows that revive Chinese artistic traditions through dance, music, and spiritual themes. Their productions dazzle audiences around the world with colorful costumes, acrobatic dance, and high-tech backdrops.
But what is the Shen Yun experience really like? And what are critics and fans saying after seeing their performances? This ultimate guide will give you an in-depth look at Shen Yun shows and dive deep into reviews of their productions.
Overview of Shen Yun and their productions
Shen Yun is a New York-based performing arts company founded in 2006. Their mission is to revive 5,000 years of traditional Chinese culture through large-scale dance performances. Each year features an all-new show with fresh choreography, music, and visuals.
The productions blend different elements into a breathtaking spectacle: intricate costumes, animated digital backdrops, a live orchestra, choral singing, and of course, awe-inspiring classical Chinese dance. Shen Yun tours these elaborate shows to over 100 cities worldwide annually.
The magic and awe of the Shen Yun experience
With so many components seamlessly integrated, Shen Yun shows overwhelm the senses. Gasps and rounds of applause are common mid-performance. Many describe the experience as magical, heavenly, and profound.
The stunning costumes transport you through China's dynasties while digital art immerses you in myths and legends. The live music matches the energy and emotions of the dancing perfectly. Smiles, tears, goosebumps – Shen Yun runs the full gamut of human experience.
What to expect from this comprehensive guide to Shen Yun reviews
In this guide, you'll learn all about Shen Yun's productions and what it's like to see them live. We'll cover key elements of the shows, from the dancing and music to the themes and controversies.
Most importantly, you'll discover exactly what professional critics and everyday fans are saying about Shen Yun. From breathless accounts of the artistry to constructive feedback, this guide compiles all the essential reviews.
Read on to truly understand Shen Yun's one-of-a-kind performing arts experience!
Shen Yun Show Overviews
Let's first get familiar with some key facts about Shen Yun's productions:
Annual tours to over 100 cities worldwide
Shen Yun has eight troupes that tour annually, visiting over 100 cities across Europe, the Americas, Asia, and Australia. Their reach and popularity continue to expand each year.
Large productions with live orchestra
Most touring productions involve 30-40 dancers, 2 emcees, a soprano singer, and a live orchestra of 60-80 musicians combining Eastern and Western instruments.
Combination of classical Chinese dance, music, and spiritual themes
The backbone of Shen Yun is classical Chinese dance, one of the most graceful dance forms in the world. Their music masterfully blends Chinese melodies and Western composition. The shows explore spiritual themes from Buddhism, Taoism, and ancient legends.
Vibrant, hand-made costumes and animated backdrops
Shen Yun has over 400 colorful costumes representing China's dynasties and ethnic groups. Their digital backdrops are unique, interactive, and synchronized with the dancing.
This winning combination of elements makes Shen Yun a breathtaking audiovisual experience. Now let's look at the company's origins and history.
Origins and History of Shen Yun
To appreciate the magic behind the curtain, it helps to understand Shen Yun's background:
Mission to revive traditional Chinese culture and art
The mission was to showcase China's divinely-inspired cultural heritage, which has been lost due to communism. Shen Yun aims to recreate Chinese traditions through dance and music.
Based in New York but tours globally each year
Though founded by Chinese artists, Shen Yun operates independently from China. They are based in New York state. As a touring company, Shen Yun performs worldwide except in mainland China.
Founded by practitioners of Falun Dafa in 2006
Shen Yun was started by followers of Falun Dafa, a spiritual practice also known as Falun Gong. Falun Dafa combines meditation and moral teachings, and is persecuted in China today.
Hundreds of international performers and crew
Shen Yun has over 1000 performers and crew representing China and countries across Asia, Europe, and the Americas. Many artists escaped persecution to join Shen Yun.
This unique backstory helps explain Shen Yun's spiritual themes. Next we'll explore the breathtaking dancing at the heart of each show.
Captivating Classical Chinese Dance
Classical Chinese dance is renowned for its spins, flips, and controlled tumbling. Shen Yun's dancers train for years to master the technical nuances:
Athleticism and acrobatics of Shen Yun dance
Jumps, kicks, and spinning both on the ground and airborne are trademarks of the dance. Balance, strength, and kinesthetic awareness are essential.
Precise techniques honed through years of training
Dancers begin young, spending years perfecting postures and learning demanding techniques matched to each dance.
Emotional storytelling through movement and flips
Shen Yun's dancers use their posture, gazes, and acrobatics to express character emotions ranging from joy to despair.
Stunning solos, duets, and large ensemble numbers
Performances include solo dances, romantic couples dances, and large group numbers with up to 40 dancers filling the stage.
The precision and synchronization Shen Yun achieves is even more incredible.
Next we'll explore their live orchestral accompaniment.
Shen Yun's Live Orchestra
A hallmark of Shen Yun is their live orchestra combining Eastern and Western instruments:
Blend of classical Eastern and Western instruments
Shen Yun's orchestra features Chinese instruments like the soulful erhu alongside violins, flutes, brass, and drums.
Orchestra travels and performs with each show
A traveling orchestra of 80 or so world-class musicians accompanies each show tour. The coordination is tremendous.
Music complements the mood and tempo of the dances
Composers write original scores for Shen Yun each year. The music aligns with the emotional tone of each dance piece.
Soaring erhu solos and powerful percussion
Chinese melodies led by the erhu fiddle contrast wonderfully with driving drum beats during climactic battle scenes.
The live orchestras are a point of pride for Shen Yun, showcasing top talent from Eastern and Western traditions.
Next we'll explore the productions' lavish costume and set designs.
Lavish Costume and Set Designs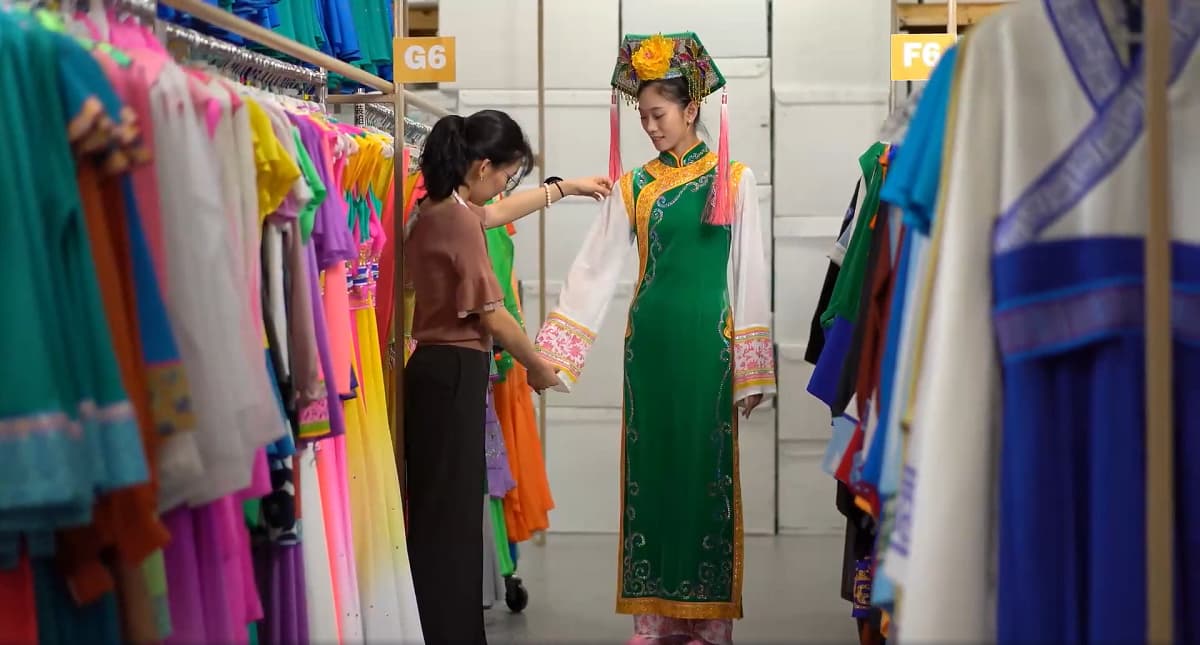 Behind all the dancing and music is an entire creative team bringing the visual spectacle to life:
400+ handmade costumes representing dynasties
Shen Yun's costumes use intricate embroidery and draping to evoke imperial China's Tang, Song, and Ming dynasties.
Intricate patterns, textiles, and craftsmanship
Fine details like shimmering peacock feathers and 21-pleat skirts demonstrate a high level of artistry and tailoring.
New costumes and sets designed annually
Costume designers and artists create hundreds of new costumes, props, and sets each season.
Cohesive visual spectacle tying dance and music together
The costumes help create a cohesive experience that transports audiences through China's history.
This painstaking craftsmanship extends to Shen Yun's state-of-the-art digital backdrops.
Digital Backdrop Projections
Shen Yun combines cutting-edge technology with artistic mastery in their animated backdrops:
State-of-the-art animated backdrops
Massive digital screens display hand-drawn animations and environments behind the dancers.
Scenes from legends, nature, and heavens
Backdrops include landscapes, celestial scenes, villages, and mythical creatures from folklore.
Backdrops synchronize with the dances and music
The animated projections seamlessly sync with the story at hand and the choreography occurring on stage.
Continuous flow between dance and visuals
Dancers appear to travel to and from the on-screen animations, creating a fantastical ambiance.
These awe-inspiring backdrops complement the uplifting spiritual themes explored through many of the dances and songs.
Uplifting Themes and Stories
In addition to impressive artistry, Shen Yun explores profound themes:
Spiritual themes from Buddhism and Chinese legends
Many dances portray Buddhist deities, Taoist immortals, and enlightened beings imparting wisdom.
Messages of hope, compassion, and enlightenment
The shows promote divine culture, with themes focused on peacefulness and seeing the inner divinity in people.
Portrayals of celestial realms and divine beings
Myths of old are vividly brought to life through dancing celestial fairies and enlightened beings.
Emotional tales like Butterfly Lovers
Romantic tragedies like the folktale Butterfly Lovers and the Hmong wedding dance move audiences.
These uplifting messages and exploration of China's spiritual past are a highlight for many audience members. Next we'll survey the full range of Shen Yun reviews.
What Reviewers Are Saying

Shen Yun generates strong reactions across the board. Here are common sentiments from professional critics and general audience members:
Stunning, breathtaking, and unforgettable reactions
Terms like stunning, magnificent, and breathtaking dominate reviews. Most agree Shen Yun is an unforgettable experience.
Appreciation for preservation of traditions
Many applaud Shen Yun's efforts to preserve ancient arts that have disappeared in communist China.
Awe at the coordination of so many elements
Fans express astonishment at how smoothly Shen Yun integrates choreography, costumes, music, and interactive digital animations.
Standing ovations and tears of joy common
Standing ovations, cheers, and even happy tears are the norm during final curtains at Shen Yun as audiences express joy.
Of course, no show goes without some controversy. Shen Yun balances on sensitive political ground.
Shen Yun Controversies
While reviews of Shen Yun's artistry skew positive, there are some recurring controversies:
Connections to Falun Dafa omitted by some reviews
Many reviews praise the show while omitting Shen Yun's ties to Falun Dafa, which shapes the spiritual themes.
Political sensitivities around portrayals of China
Some critique Shen Yun's portrayal of communist China suppressing faith and traditional culture.
Some critique overt religious messsaging
Occasionally reviewers take issue with Shen Yun's spiritual themes as being too overtly religious or propaganda-like.
Debates around mission and authenticity
There are philosophical debates around whether Shen Yun accurately represents Chinese culture after fleeing communist rule.
While these controversies arise in some critiques, most focus on the production quality and recognize Shen Yun's place as refugees reclaiming their heritage.
Now that you understand the full picture behind Shen Yun productions, let's look at tips for seeing these captivating shows live yourself.
Seeing Shen Yun in Person
When you finally get tickets to experience Shen Yun live, these tips will help maximize the magical experience:
Advice for best seats and theatres
While all seats provide a decent view, center orchestra seats a few rows back give an ideal perspective without neck strain.
How early to arrive and intermission length
Arrive at least 30 minutes early to find parking and get comfortably situated before the performance. There is usually one 15 minute intermission.
Appropriate attire and etiquette
While there is no formal dress code, wearing nice event attire can complement the experience. Refrain from talking and limit bathroom trips to intermission to avoid disruption.
Where to stay and dining nearby
Escape traffic by booking a hotel within walking distance of the theater. Enjoy drinks or a meal at a nearby restaurant before the show.
Experiencing Shen Yun live magnifies the energy and spiritual weight many describe. The colors and textures really pop in person. Finally, let's answer some frequently asked questions:
Frequently Asked Questions
Here are quick answers to common questions about Shen Yun show:
Q: What do Shen Yun tickets cost?
A: Ticket prices typically range from $80-$250 depending on seat location.
Q: How long are Shen Yun performances?
A: Most shows run 2 hours and 15 minutes including intermission.
Q: Where will Shen Yun be touring this year?
A: Shen Yun tours to 100+ cities from major hubs like London to smaller towns annually. Check shenyun.com/tickets for specifics.
Q: Is Shen Yun appropriate for children?
A: Yes! The uplifting themes and colorful costumes appeal to all ages.
Q: Can I take photos or videos of the performance?
A: Generally photos and videos are prohibited during the show.
Conclusion
After reading such ecstatic reviews, Shen Yun's stunning productions should be on your artistic bucket list! Let's recap the key points:
Shen Yun offers a magical journey through sight and sound
The seamless integration of interactive digital art, classical Chinese dance, distinctive music, and spiritual themes creates an experience unlike any other.
An uplifting experience for audiences around the world
Despite controversies, most agree Shen Yun transcends culture and politics to uplift and connect viewers.
This guide covered key elements of their productions
You now understand the choreography, costumes, live music, and technical mastery behind Shen Yun's grand productions.
See Shen Yun's artistry for yourself and be transported
There's no substitute for witnessing Shen Yun's divine magic firsthand. Let the colors, athletics, music, and myths carry you away!